Lunch Workshops
Tuesday, January 26, 2016
Take Control of Your Spending
Tips to make a spending plan that works even while you're in college.
Union, Parlor A
12:00 PM - 1:00
Wednesday, February 17, 2016
What You Don't Know About Credit
Learn the secrets to building a better score and making credit work for you.
Union, Parlor A
12:00 PM – 1:00 PM
Tuesday, March 29, 2016
How to be a Consumer-Savvy Student

Don't get taken advantage of. Learn how to protect yourself & your purchases.
Union, Parlor A
12:00 PM - 1:00 PM

Free Tax Preparation
U.S. resident tax clinics will open February 8th - April 15th.
Update: We will now be open during Spring Break!
The clinic will be held in the Union Basement Computer Lab.
Hours:
Monday: 12:30pm - 4:30pm
Tuesday: 12:30pm - 4:30pm
Wednesday: 4:00pm - 8:00 pm
Thursday: 2:00pm - 6:00pm
Fridays: 10:00am - 2:00pm
Saturdays: 9:00am - 1:00pm
No appointment required.
The walk-in clinic is facilitated in which you prepare your own return with the help of IRS Certified Tax Preparers.
What to Bring
Please bring all tax forms provided by your employers, banks, investment brokers, schools, charities, etc. This is a list of common tax forms our site normally sees and where they come from:
W-2 from employers
1098-T form (found on CIS under the heading "Tuition & Loans)
1099-MISC from contract work performed
1099-INT from banks for interest income
1099-DIV from investment dividends
1098-T from tuition paid (available on CIS)
Other 1099 forms
Other 1098 forms
If you are due a refund, please bring routing number and account number for your bank account so it can be directly deposited into that account. (not required but recommended; you can find this information on a check from your personal bank account)

What to Expect
At our site, someone will greet you and set you up on a computer. If there are no computers available when you come in you may use your laptop, if you have one. The greeter will make sure you are setup properly.
We will not be doing your taxes for you, but have you do your taxes on an easy to follow H&R Block software. However, we will have certified volunteers there for any questions you may have while preparing your taxes.
When you have completed your taxes, before you file them, be sure to have a volunteer do a quality review to ensure that major credits and deductions were not missed.
After you have completed the process, we will have you save a copy of your tax return for your files. Also, we will ask you if you would like to fill out an optional survey to see what we can do better next year to assist you.
For more information and for volunteer information, go to:
http://www.utahbap.com/vita.html
Or if you feel comfortable on your own, you can prepare your taxes for free yourself using myfreetaxes.com
International Students and Scholars

If you are an International student or non-resident who needs to prepare their tax return, the International and Student Scholar Services Center will be providing Sprintax software codes that will let you file your federal return for free. This software is easy to use and has 24/7 hotline help if you have questions. Sprintax will file your state tax return for a fee or you can file for free at Utah's Tax Payer Access Point.
For more information and to request a code, visit:
http://internationalcenter.utah.edu/students/employment/taxes.php

IDA Matched Savings Program
Could you use a $4,500 Grant?
Do you need help paying for college, buying your first home or starting your own business? The Utah Individual Development Account Network provides matched savings accounts to qualified participants who receive a $3 match toward every $1 they save (up to $1,500).
For more information about this program and to see if you qualify, visit www.uidan.org.
Required personal money management classes
March Class CANCELLED, Sorry for the Inconvenience
Monday, March 14th and Tuesday, March 15th
Union, Room 323 A&B, 8:00am-12:00pm.
We are in the process of planning a class during the first week of April. Check back, more information to come!

University Events
Ongoing through Friday, June 3, 2016
Marriott Library - J. Willard (M LIB)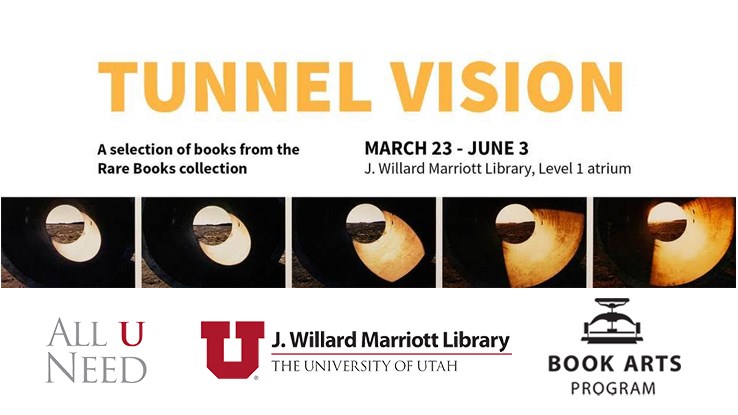 Tunnel Vision: A Selection of Tunnel, Pop-up and Movable Books from the Rare Books Department Tunnel Vision features a selection of pieces from the rare book collections produced using various paper manipulations to create the illusion of depth — framing and narrowing the viewers' perspective. This exhibition is the result of a collaboration between the Book Arts Program, the Utah Museum of Fine Arts, and the Rare Books Department. It coincides with two events (see below) inspired by Nancy Holt's famous land art piece, Sun Tunnels, located in Utah's west desert.
---